Creative Spirit Geneviève Bétournay is the art director of Art House Café, a community artist space in the heart of Ottawa, Canada.
Art House Café hosts regular art exhibits, such as the current Fall Exhibition as well as provides private showing opportunities for artists. Additionally the space hosts workshops and meetups for activities like life drawing, creative threads meetup, and clay nights. Art House also participates in local community events like the yearly Remixed Festival.
Carrie: When did you first realize the importance of the arts in your life?
In the past I have generally just accepted art as something that happens that is good for everyone, but it was only a couple years ago that I wondered, and then understood, why art is important, and how important creativity is. That's when I decided to undertake my pursuits relating to the arts.
Carrie: What inspired your desire to build something like The Art House Café?
Talking with Joe, my prior work through Studio La Mouche, and a strong belief that I have something to share with the world.
Carrie: How do you think community helps artists?
For an artist, as with anyone, community offers communication and a way to learn. From the sharing of knowledge, skills and resources, to the care and comfort, community promotes growth, in an individual as well as for the group.
Carrie: What has been one challenge faced by The Art House Café and how did you overcome it?
The Art House Café had very humble beginnings, even to this day we don't have everything in place that we would like. Being poor is still a challenge but we know that we just need to be patient. Perseverance and support from the community, in the form of donations and enthusiasm throughout, have kept us moving forward.
Carrie: Tell us about some of the events you've hosted here at The Art House Café.
We have a range of workshops taking place in the space, everything from silkscreening to terrariums to acrylics. On the weekends we've usually got a nice mix of art openings and/or music shows and/or poetry nights, and then Monday through Thursday we've got weekly events like Creative Threads and Button-making, Life Drawing, Clay Nights, and Open Mic Jam Sessions. We like to keep the calendar full!
Carrie: What has been the biggest surprise about cultivating your art community?
The energy in the space. It's just not something that I had imagined before the space had opened. It shows through almost anyone in the house at any given time, and I've seen its effect on others that come in – it's ridiculously positive and warm.
Carrie: What advice do you have for artists seeking greater visibility for their art?
Use your free resources. If you want people to see or buy your stuff, then you best get with where people are looking, and that's often on social media. If you're feeling lost and have no ideas for how to get noticed, there's no shortage of places, names and tactics to discover: the internet can teach you just about anything.
If you're overwhelmed by the number of options and directions to head in, just start anywhere. You'll be surprised how quickly you figure out what you do or don't want, and in which direction to head.
Carrie: How can people support your work?
Much of my artwork as well as the Studio La Mouche goods that I produce are available to see or purchase through the Art House Café Gift Shop. Of course, to support the Art House Café, you can just swing by and say hi! Have a try at one of our events or workshops, and see what it's like to be surrounded by art and the energy of the people in here. 🙂
Carrie:  What is one creative resource you can't live without?
Google images.
Carrie: Who/what inspires you?
To keep it simple, I'd say listening to music, David Bowie and observing life in action..
Carrie:  How do you define Creativity?
I suppose I would define creativity as the ability to have the appearance or transformation of ideas. Creativity can be associated with originality, and it's often about making a connection. It is something that you can increase the likelihood of happening, but when creativity will happen is not your choice.
Be Creatively Courageous: The quote: "when creativity will happen is not your choice" really sticks with me. What do you do to help create an environment that fosters your creativity? Tell us about it in the comments below.
Additional Contact Info:
Website:
October Art Challenge is HERE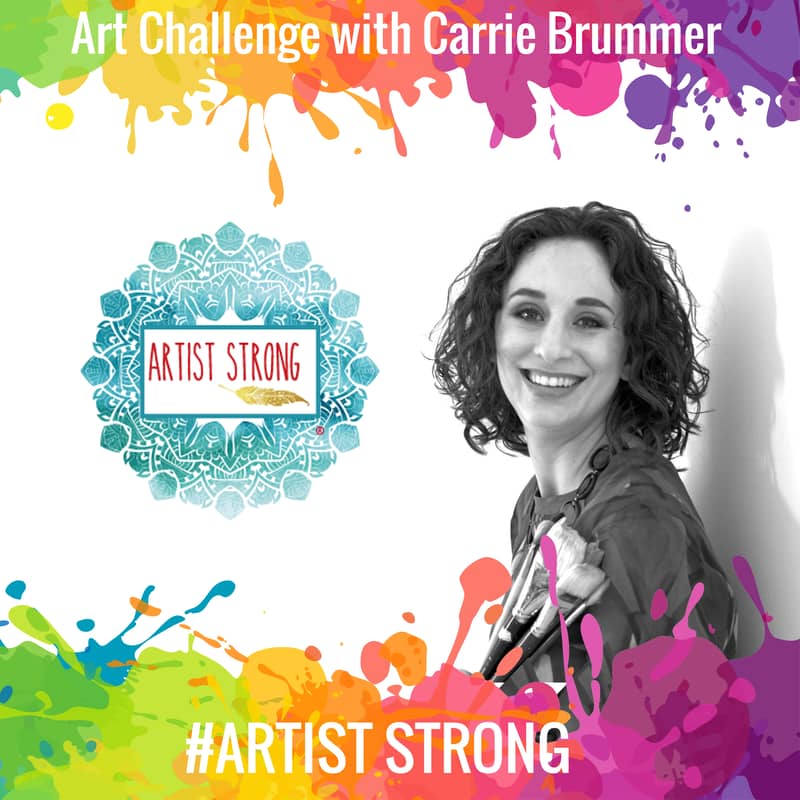 #ArtistStrong is here: a challenge for the month of October encouraging you to set personalized goals for your art, and giving you the steps to achieve them!

If you want to find your voice as an artist, or you want to create steps to finally share your art on a larger scale, this challenge is for you. It's free, too! Sign up here to access Artist Strong's newsletter and as a bonus, enjoy this challenge, too! Mark those calendars: we begin October 1st.
Please note: We collect, use and process your data according to our Privacy Policy.

Already joined the challenge? Be sure to request access to your Facebook Community: https://www.facebook.com/groups/429663443868440/