Kara Bullock is an artist that resides in Southern California with her husband Jeff and their three children.  She has been teaching since 1998.  Kara's career started as an elementary school teacher in 1998. But in 2008 she began teaching college courses, online, to adults studying to become teachers.
In 2013, Kara began creating art as a hobby, but this soon turned into her full time career as she made the move from educating teachers online, to teaching artists on her own website.  She currently is living the dream of working as an artist, art instructor and creative mentor!
Carrie:  When did you first realize art was an important part of your life?
I realized that art was important in my life as a young child.  I loved creating and any free moment that I had was often dedicated to drawing, coloring, collaging, etc.
Carrie: How would you describe your art?
This is a hard one! I don't know that I have ever really thought about it as my art changes just about as often as the seasons.  My passion is to draw and paint people. I think that I want to understand others so much, their lives, their feelings, etc. that I am drawn to paint/draw what I see.
As I am doing this, I connect with who I think that they might be and what they could be going through in their lives. So, I guess that I feel my art could be described as emotional life stories.
Carrie: What does your workspace look like? (photos and/or written description welcomed)
I just started renting a creative space and I feel so lucky to have it.  It is big enough to have others join me, but is mostly used for my own quiet, creative time.  I feel that it has really helped me to further develop my style.
Carrie: Can you describe the evolution of your artistic style? (Have you always made art with this unique vision or what was your turning point into recognizing this style was your authentic "you"?)
Since about 14 years of age, I have drawn or painted people almost exclusively.  However, my style has changed over time and continues to do so.
While I think I will always paint/draw portrait and figurative art, I don't put limits on myself as to what I should or shouldn't do.  I believe that this helps me to continue to experiment so that I can just keep growing and changing as an artist.
I think that as long as I continue to be true to what I want to do and experiment, then I am being "me".
Carrie: In addition to creating your own art, you run all kinds of education programs. Tell us about your program Let's Face It?
I feel so thankful to run the courses that I do on my site, and believe that each course is also a piece of art in itself.  The artists, including myself, work so hard to build and create the content for the learners.  It really is an artform in itself.  As for Let's Face It, it is really like a baby to me.
Because I love portrait work so much, I thought that creating a course that focused on this area of art would really benefit others who enjoy it as I do.  In a nutshell, this course is made up 20+ artists and 48+ lessons that focus on portrait and figurative art lessons.
In 2018, we will be focusing on studying the art masters from many different art periods.  It's going to be brilliant!  I feel incredibly lucky and humbled to have had such an amazing response to the course, and look forward to creating a new and exciting program for the students each year.
Carrie: Can you share an anecdote from a student who has participated in the program?
That is tough!  I don't think that I can share just one story from one student when there have been over 2000 people join since it's inception.  What I can say is that I have had students that have never even drawn a portrait, go from struggling to draw/paint a face, to becoming quite an advanced portrait artist in such a small amount of time.
It just goes to show that if you do something over and over again for an extended period of time you CAN become great at it.  You just have to have determination, persistence, and faith.
Carrie: What has been one hurdle you've overcome as a creative and how did you navigate that problem?
We all know how challenging it can to be a creative.  We all have the "inner critic".  It's what comes along with this life.  I think that my biggest hurdle has been learning not to listen to the negative comments from others, or from myself.
I try to wake up each day and remind myself that I was meant to create, that all of my work (even the work I am disappointed in) has value, and that I must continue on this creative journey.  I have to, not just for me, but also so that I can continue to inspire others to do the same.  I think now, that is the main goal for me…to inspire others to keep going on their creative journey.
Carrie: What's one piece of advice you'd give to your "beginner" artist self?
Don't worry about what anyone else thinks…. Don't even worry about what you think.  Just keep going!  Do it again and again and again.
Carrie:  What is one creative resource you can't live without?
I can't live without pictures!  Pictures and people are what inspire me every day.  So, without them, I wouldn't be creating.
Carrie: Who/what inspires you?
I may sound like I am repeating myself, but people inspire me.  I want to know the story behind everyone.  I want to feel it and paint it.
Carrie:  How do you define Creativity?
To me, creativity is putting your heart onto a canvas.  It is sharing a piece of your soul with others.  It really is the most vulnerable thing that anyone can do.
Be Creatively Courageous: What limiting beliefs have you had around your skill, especially when it comes to portraiture? Admitting them out loud is the first step to overcoming them – please share in the comments below.  
Additional Contact Info:
Website: https://karabullockart.com/
October Art Challenge is HERE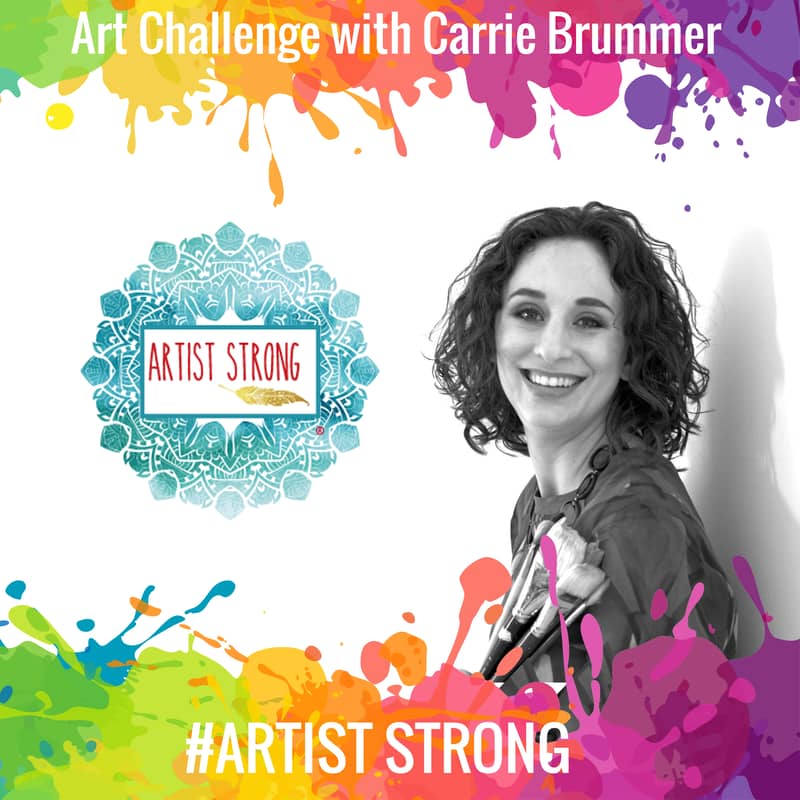 #ArtistStrong is here: a challenge for the month of October encouraging you to set personalized goals for your art, and giving you the steps to achieve them!

If you want to find your voice as an artist, or you want to create steps to finally share your art on a larger scale, this challenge is for you. It's free, too! Sign up here to access Artist Strong's newsletter and as a bonus, enjoy this challenge, too! Mark those calendars: we begin October 1st.
Please note: We collect, use and process your data according to our Privacy Policy.

Already joined the challenge? Be sure to request access to your Facebook Community: https://www.facebook.com/groups/429663443868440/