Andrea Warren is an artist and educator based out of her hometown of Ottawa, Canada.  She is best known for her large-scale abstract paintings that evoke the webbed lines and glossy colour of stained glass, rendered in modern materials.  Since 2008, she has been an educator for Golden Artist Colors, a paint company based out of upstate New York, providing lectures and workshops on artist materials at universities, galleries, and art associations across central and eastern Canada.  
Andrea received her B.A. from Trinity Western University (Langley, BC) in visual arts and philosophy, and has been featured in publications such as Create! Magazine and Art Ascent Magazine.  For the last ten years, she has also been involved in the field of art and healthcare, working with various non-profits to offer therapeutic art classes for seniors, kids, women's shelters and organizations such as the Canadian Mental Health Association.  
When she's not painting or teaching, Andrea can be found scouring used book stores, noodling around on her guitar, or having tea parties with her four-year-old niece.  
Carrie:  How would you describe your art?
I am primarily an abstract painter working in acrylic, although I dabble in mixed media and printmaking as well.  My work is very loose and spontaneous – I throw, pour, and drip paint.  My work focuses on organic line and vibrant colour – as Monet once said " color is my day-long obsession, joy and torment."  
I work mainly with modern synthetic pigments that are extremely transparent, glossy, and rich, and do all of my colour mixing directly on the canvas, building up depth through multiple layers.  
Carrie: When did you first realize the importance of the arts in your life?
The arts were important to me from a young age, but I didn't really get into visual art until university.  I drew quite a lot as a kid, but I was more focused on music and writing- I was a huge bookworm, and was convinced I was going to be a writer.  It wasn't until university that I really started to focus on visual art – I started painting for the first time and fell in love.  
Carrie: What does your workspace look like?
Right now I'm working from a home studio in an old farmhouse and it is almost always chaos.  Because I fling paint around so much, it is covered in wall-to-wall tarps and dropcloths.  Besides a table (that could theoretically be used for working but is mostly just covered in paints) and a couple bookshelves for supplies, it's set up pretty minimally because I mostly work on the floor.  I work on four or five pieces at once, so the studio is usually an explosion of art supplies and an obstacle course of canvases.

Carrie: How has teaching art informed your own practice as an artist?

I've found teaching to be great for my own practice because it constantly pushes me –  I always want to be creating new and better workshops for my students, so it forces me to continually research and explore new things. Spending time with my students is always energizing – seeing their enthusiasm, their growth, their faces light up when something clicks or they create something they're proud of.  I love it – it's really humbling and gratifying to get to be part of that, and always makes me want to hurry back to the studio and paint myself.

It's definitely a balancing act, though, because there's so much behind-the-scenes work that goes into teaching – crafting classes, writing handouts, making sample pieces, answering emails from students, etc.  I've had to consciously make a decision to not let my role as an educator take away from my own work – for the sake of my own practice, but also because I know that I am a far better teacher when I've got my hands in paint regularly.
Carrie: Tell us about some of the programs you offer.

I'm really fortunate to be an educator for my favourite paint company, Golden Artist Colors, and as a " Working Artist " for them I give lecture demos on acrylic materials and techniques for art groups, schools, galleries, and art supply retailers.          
I also give hands-on workshops in the community- from three hour introductory classes to multi-day workshops where students build up a body of work.  I teach acrylic painting, as well as mixed media, watercolours and printmaking.  
All of my classes are very materials-focused, because my teaching philosophy is that you can produce your best work when you really understand and know your materials.  I try to make every class a balance of solid teaching in materials/techniques and a space for playful experimentation.   

Carrie: Can you describe your artistic process to readers? For example, do you follow the same pattern and track when you develop an artwork from idea to product?

Besides some initial colour choices, I don't plan my pieces ahead of time – because I throw and pour paint, there's an element of chance in my work that makes it impossible to plan pieces from start to finish.  I let my materials do their thing in each layer, and respond to it in the next.  
For my main series I do have a usual process I've developed over the years – to start, I mix black paint with Clear Tar Gel, an acrylic medium with the consistency of honey.  I pick it up by the handful, and throw it at the canvas – flinging it from a few feet away.  Once that's dry, I apply washes of fluid acrylics – a liquid, concentrated form of acrylic -that pools within the raised lines.
I do multiple layers on each piece, working from light to dark values.  I finish the pieces with a thick layer of Clear Tar Gel, which I pour across the entire surface to create a resin-like sheen.  I work almost entirely with my hands, as I'm very tactile and like the immediacy of working without tools.   
Carrie: What's one piece of advice you'd give to your "beginner" artist self?
I would tell myself to not let perfectionism hold me back – that sometimes it's the "mistakes" that you stumble on that will be the key to future work.  
I'd tell myself to just keep making non-stop work- that with every piece you are developing your craft, making discoveries, figuring out what works and what doesn't.   
I'd also tell myself to be meticulous in documenting work. There's so many pieces from my younger years that I sold or gave away, that I wish I had a record of.  
Carrie: How do you think vulnerability affects artists/creatives?

I think artwork made from a place of vulnerability is often the work that is the most powerful and that resonates most with people- it's a breath of fresh air.  Frida Kahlo is a good example – her work was so honest, raw and personal, and I think people love her (myself included) because of that.  She was such a badass.  
Carrie:  What is one creative resource you can't live without?
I'm still a bookworm, and probably couldn't live without my books.  " Letters to a Young Poet " by German poet Rainer Maria Rilke is probably my all-time favourite book on the creative process.  Another favourite is " Manage your Day-to-Day: Build Your Routine, Find your Focus and Sharpen Your Creative Mind" – a collections of short essays by creatives in a variety of fields.

My workbook from training with Golden is pretty indispensable as well.  

In terms of art supplies, I could not live without Clear Tar Gel – I go through it by the gallon.   
Carrie: Who/what inspires you?
Being a paint nerd, my materials themselves are a huge source of inspiration.  Working with new materials always sparks new ideas- finding new combinations or color mixes when I'm experimenting can start me in a whole new direction.  

Talking with other artists – sharing ideas, knowledge, processes, frustrations – is also huge.

Instagram has turned out to be a big source of inspiration for me, strangely enough-  I have found so many artists I love through following galleries and art magazines there.  My feed is basically one long stream of inspiration now.  I love seeing other artists' work in progress, studio setups, etc.  I also love listening to podcasts while I paint, like Art in Your Ear by the Jealous Curator, and A Piece of Work with Abbi Jacobson of Broad City.    

Of course, nothing beats getting out to galleries and seeing other artists' work in person – getting to see the texture, brushmarks, scale.  I always get followed around by security guards because I want to see that paint up close.   
Carrie:  How do you define Creativity?
I'd say it's an innate itch, this compulsion to take different elements and make something new with them.  I believe everyone has it – it just manifests in different ways for different people.  
Creativity requires playing and getting out of your head, at least for awhile – then you can step back and assess, see what's next.  
Be Creatively Courageous: What's one piece of advice Andrea offered today that you will (or do) apply to your own artist life?
Additional Contact Info:
Website: www.andreawarren.ca
October Art Challenge is HERE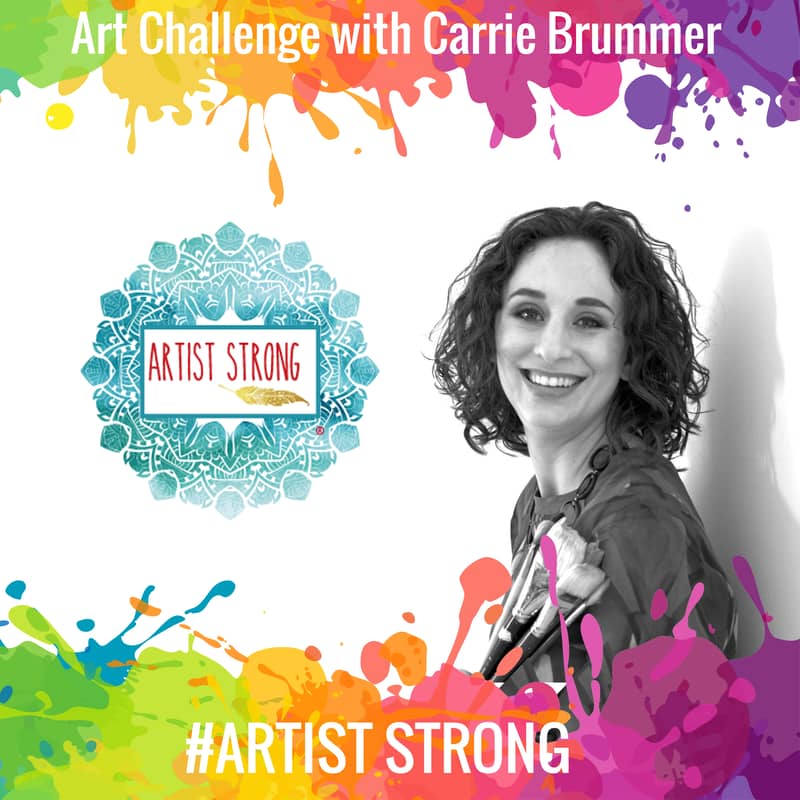 #ArtistStrong is here: a challenge for the month of October encouraging you to set personalized goals for your art, and giving you the steps to achieve them!

If you want to find your voice as an artist, or you want to create steps to finally share your art on a larger scale, this challenge is for you. It's free, too! Sign up here to access Artist Strong's newsletter and as a bonus, enjoy this challenge, too! Mark those calendars: we begin October 1st.
Please note: We collect, use and process your data according to our Privacy Policy.

Already joined the challenge? Be sure to request access to your Facebook Community: https://www.facebook.com/groups/429663443868440/