I've heard the following phrase way too many times: my art isn't important unless it's about social justice. Sometimes I hear it from people who email me, sharing some of the judgement and worth they feel about the value of creating art. Sometimes, I hear it from my own inner critic, quietly judging me for not doing enough in this troubled world.
Hi my name is Carrie and I help artists like you build your skill and refine your unique artist voice. Today on Artist Strong we are talking about the relationship between art and activism.
First off: ART IS IMPORTANT. Period. Le fin.
We ALL need a reprieve from the constant onslaught of injustice and drama. We can be informed AND also take steps to care for ourselves. In a time when we are constantly connected, having an outlet that is offline is even more valuable. Making art is mindfulness practice, a tool that is very valuable in our divisive, troll filled world.
We can only withstand, stretch, challenge, grow, serve others AND seek change in a sustained way if we care for ourselves. The way to create change in our environment and in the communities we are part of is by taking steps to model self-care. Art can be that tool.
I still find it interesting that people have no trouble talking about binge-watching the latest show on Netflix to decompress but at the same time we still can place judgement on making time for our art!
Now, let's get to the next big truth: the act of creation IS activism.
We live in a world where many either have or feel they have no voice. Art IS one way to share it. Sometimes conversation doesn't work. Art can be a bridge between two opposing viewpoints. Art can be a commonality that allows people who think themselves to be polar opposites as people with shared interests.
Additionally, we still live in a society that tells us it's okay to relax with our Netflix but it's weird to put art before your friends, laundry, cleaning, or sometimes even our family. And yet, more and more research is proving that when we lack play in our lives, bad things happen. If you don't know this research, please look up Dr. Stuart Brown.
When we stand up and say our art is important, we model to friends, loved ones, our children, other young people in our lives, that we don't have to celebrate the cult of being busy, of only working incredibly long hours, of always being tired.
I can remember my dad often saying "do as I say, not as I do." He always said this with a bit of a grin, showing his mischievous side and I think we all know why. Visible examples (our actions and behaviors) are much more impactful than talk. YOUR choice to create is activism.

Lastly, your art does not HAVE to be about activism
.
You can be an activist for a cause that is important to you and not involve your art. Your art doesn't have to be about any activist cause you care about. As I mentioned early, art is a valuable tool for self-care that has resounding researching telling us the arts can enhance our mental and physical health.
If you are participating in the hard work of activism to effect change in this world you deserve to have something that's about fun, about detoxing, decompressing, and being mindful. Paint flowers, join an Urban Sketchers group, or embroider hearts. Making art for the joy of making art DOES NOT make your art less important.
Now let's get back to that phrase: "my art isn't important unless it's about social justice." Why does this come up? Because we have another thought we are navigating: "I'm only one person. What can I possibly do that will make a difference?" Next week I'm going to talk define what I call "quiet activism" and highlight several ways you can combine your interests in art and activism. Because every single one of you can and do make a difference.
Be Creatively Courageous: Which truth we talked about today best applies to your art? Tell me about your work in the comments below.
Coming in the month of October I have a 30 day art challenge called, #BeCreativelyCourageous. It's about dreaming big, setting goals, and finding the path to your personal definition of artistic success. If you are an art activist who needs structure to build your work, or an artist looking to find your unique style and voice, this challenge is for you. Sign up below this video today to be sure you don't miss out!
October Art Challenge is HERE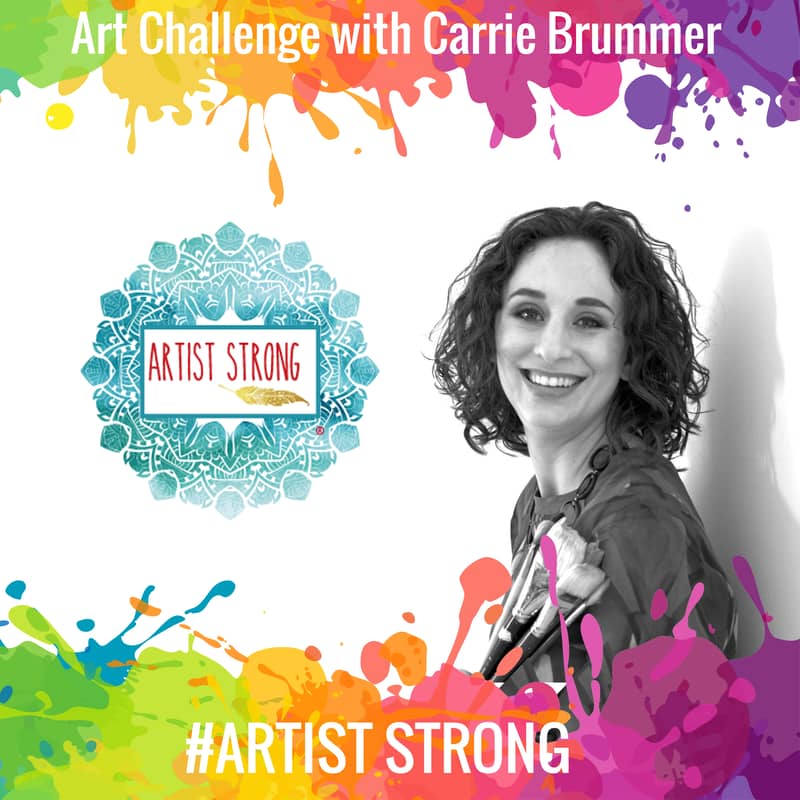 #ArtistStrong is here: a challenge for the month of October encouraging you to set personalized goals for your art, and giving you the steps to achieve them!

If you want to find your voice as an artist, or you want to create steps to finally share your art on a larger scale, this challenge is for you. It's free, too! Sign up here to access Artist Strong's newsletter and as a bonus, enjoy this challenge, too! Mark those calendars: we begin October 1st.
Please note: We collect, use and process your data according to our Privacy Policy.

Already joined the challenge? Be sure to request access to your Facebook Community: https://www.facebook.com/groups/429663443868440/